Britain's leading specialist globe maker, Greaves and Thomas, has opened a café – the Orrery Café in Ryde on the Isle of Wight.
The café, in restored premises of Bravinger's Arcade is the first part of a project to establish Britain's first globe museum.
The décor of the café includes a suspended orrery and a fibre optic star ceiling in which the constellations are modelled on characters from Lewis Carroll's classic Alice's Adventures in Wonderland. A celestial globe using the same artwork is also available from the company.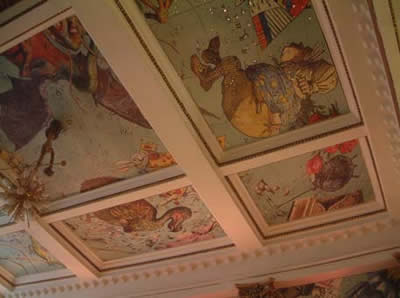 The café is named for the orrery (a model of the solar system) that is suspended from the ceiling.
Click on the image above for a much larger photo showing the fibre optic stars and orrery illuminated.
Starscape was delighted to be involved in this project as a supplier of optical fibre and technical advice.
To learn more about the company's range of attractive globes visit its website at globemakers.com
This is probably the most ornately decorated star ceiling in the UK.