Star kits from £135.00 free shipping to UK
A Starscape animation showing a DIY star kit installation in a bedroom.
Why buy a starkit from Starscape?
If you want to buy a fibre optic star kit it makes sense to buy from a firm which specialises in this area of fibre optic lighting. Although we're involved in all sorts of fibre optic lighting, star ceilings are our core business and our DIY fibre optic star kits reflect our experience and expertise in this sector. Because we specialise in this aspect of fibre optics we're confident that there's nobody in the UK who can offer you a better service when it comes to DIY star ceiling kits.
Service is a key part of what we offer – we don't simply list a range of star kits and leave you to make a choice. More than half of what leaves our workshops has been customised to some extent or other – we'll never try to persuade you to use an off-the-shelf kit if we feel that a bespoke star ceiling kit will give you a nicer result and better value for money.
Take a look at the Customer Projects pages on this website. We now have well over 150 such projects featured and each of these represents a customer who was so happy with our products and service that he or she took the trouble to come back to us with photos and feedback.
As for price, it is possible to find star kits advertised online at lower cost but as a general rule if something looks too good to be true it probably is. Not all optical fibre is equal – some grades are very poor, with inferior optical properties and very prone to snapping. Here at Starscape we're constantly interacting with fibre manufacturers to source the best grades which are available.
Over the years, fibre quality has gradually increased and the best grades can be anything up to four or five times better than the really cheap stuff. So, don't be tempted to buy a star ceiling kit which looks really cheap since it may be a very false economy.
Equally, we're constantly monitoring light source technology to ensure that we can offer customers reliable units with good features, an 18-month warranty and good after sales support beyond the warranty period.
You'll find that some of the online sellers of really cheap star kits can actually be quite hard to track down, without published telephone numbers or physical addresses. By contrast, we're on Google Maps for everyone to see. So, if you want us, you know where we are! And, you know who we are – Starscape is a British limited company and the directors' names are on the contact page of this website.
So, this is why you should buy from us – the other tabs on this page have details about the actual components and process of creating a star ceiling.
If you have any questions at all, please email: info@starscape.co.uk or call one of our friendly team on: 01289 332900
Understanding your kit components

A fibre optic star kit has just two main components. A light source, and a harness of optical fibres, usually at various lengths and diameters.
A fibre optic light source (sometimes called a light engine or projector) is essentially a box with a lamp of some sort in it – these days most commonly an LED (light emitting diode) or cluster of LEDs. The move in the past few years towards using LEDs in place of halogen bulbs or metal halide bulbs means that light sources use less power, generate less heat and require less maintenance. There's no bulb to ever change and LEDs should last in excess of 40,000 hours – long enough to see a new baby through to university.
Inside most light sources there's a motor or motors which turn effects wheels to modify the light before it enters the optical fibres. A twinkle wheel has a number of holes in the Aluminium disk that alternately interrupt and then allow the light to pass to the fibres.

This produces a twinkle at the far end of the fibre. A colour wheel is a disk of different coloured dichroic glass filter elements arranged as "pie segments" and as this rotates in the beam of light the colour in the fibres changes. Some light sources these days use different coloured LEDs to mix colours and so don't require a colour wheel. Our MaxiLEDRGBW light source features this technology and so can show a far greater range of different colours. A colour wheel always has a clear section to allow it to show plain white light. Where a light source has both a colour wheel and a twinkle wheel it can show both twinkle and colour effects simultaneously, whereas in more simple models you fit the wheel of your choice to produce either twinkle or colour.

Light source control options can range from simple on/off and dimming by remote control to much more sophisticated mechanisms to allow integration with home automation systems such as Rako, Lutron and Control4.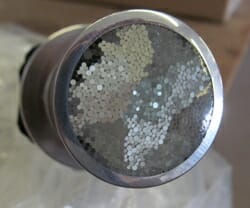 If you look at the different models on our light sources page you'll see that they come in all shapes and sizes. The one thing they all have in common is an opening or "optical port" at the front. This is where the optical fibres plug in so as to be illuminated by the LED. The fibres are combined in a "harness" in which all fibres come together in a "common end" which plugs into the optical port. The common end consists of an aluminium ferrule and a cable gland that between them secure the bundled fibres and align their ends neatly. When the common end is slid into the light source, the collar of the optical port holds the ferrule at 90 degrees to the LED to allow the maximum light to enter the fibre.
A harness can theoretically have just a single fibre or more than 1000, depending on the application, the size of the light source and the diameter (thickness) of the fibres. Fibres of different diameters are typically mixed in a harness to create a 3-dimensional – or "near and far" – effect in a star ceiling and in most cases the fibres in a harness will be cut at a range of different lengths
There's no electricity or heat in the fibres – they simply carry light in the same way that a hose carries water. Cut the end off a fibre and the light will shine brightly from the new end. If your light source stops working or if you want to upgrade to a better light source with more features you simply slide the common end out of the old light source and plug it into the optical port of the new light source.

We offer a range of ready-made harnesses for the DIY customer, but we also make up bespoke harnesses every day to suit the specific needs of customers where the off-the-shelf harnesses aren't the best fit.
If you are thinking about end fittings for your star ceiling follow this link. However we don't recommend using them for star ceilings.
If loft insulation is present it will really help to remove it before you start your project. It can be replaced over the fibres when the job is finished.
Position the light source in the loft space, in the centre of the display if you are using a standard kit.
Provide power – either a switched socket using the plug-in transformer which is supplied as standard with our compact light sources, or, if you would like to wire directly into the lighting circuit remember to order a 'hard wire kit' which is a transformer capable of being wired into a junction box.
Most of our light sources contain a motor or motors to turn the colour or twinkle wheel/wheels. In some circumstances the motor can set up a resonance. So, if you are securing the light source to joists it is good practice to mount it on a board with some vibration dampening material between the joist and board. Foam will do the job nicely.
Connect the fibre harness to the light source, remove the protective plastic sleeving in which the fibres are packed and and then do your initial distribution of the fibres, radiating outwards from the light source.
Using a 1.00mm bit, drill the holes from below creating a natural star pattern. A couple of nice star field layouts are included on this page. TIP – check that your drill chuck will grip a 1mm. You can drill from above or below. Drilling from the room below will generally allow you to keep better track of your star distribution.
Insert the fibres from above and secure with black silicone. Tip – if you are using a different adhesive check on a small section of fibre first as most solvent-based adhesives will melt the fibre. Superglue doesn't work well with optical fibres and makes them prone to snapping. Silicone and most acrylics are safe.
You can push the fibre through as much as you like, as they will be trimmed back later with scissors or nail clippers.
When the adhesive has set trim back the fibres to about 5mm and then paint. When the paint has dried you have a couple of options.
For a really tight star point with no back reflection trim as close to the ceiling as possible. Nail clippers are good for this – use the side of the jaws.
If you are likely to paint the ceiling again in the near future trim the fibres back to around 3mm. They then can be overpainted and trimmed again.
Job done! Don't forget to send us some photos.
Solid ceiling or no access from above?
Fibre the boards from above – easy.
If access above the proposed star ceiling is restricted or non-existent, then it is possible to fibre plasterboards at ground level (or indeed panels of other materials such as mdf or plywood) and then fix them to the ceiling.
The main benefit of this method is no dirty and uncomfortable loft space work. The fibres are all inserted at ground level making the trickiest part of a star ceiling project relatively simple.
People often ask us how to plaster the boards with the fibres in place. The short answer is don't try. Putting a plaster skim over the fibre is possible but this is a very tricky and time-consuming process. The protruding fibres make it hard for the plasterer to achieve a nice finish, and then the plaster has to be sanded away to expose the buried fibre ends.
We would therefore recommend using tapered edge boards and filling the joints. Putting only a few fibres in the joints, this will minimise 'striping' and also keep the person plastering and sanding the seams relatively calm. Practice with some board offcuts – it can be done.
Another thing to take into account when putting fibres into multiple boards or panels is that it's generally not possible to work with a completed fibre harness. With a standard fibre harness all of the fibres come together at the common end ferrule, which means that the minute you offer your first fibred panel up to the ceiling you run into handling issues. So, it's better to treat each panel as an individual piece in the initial stages of the installation with fibres which aren't connected to the other panels.
One option is to take the fibre as a series of separate bundles and fit the common end ferrule only when all the panels are in place. This isn't difficult and we have a how-to document and video.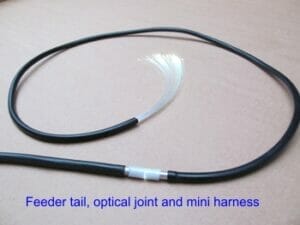 There's another even easier solution: using our optical jointing system we can supply you with a "mini-harness" for each panel. This bundle of relatively short fibres terminates in a small ferrule which connects to a similar one at the end of a longer 'tail' which is part of a harness of several such tails carrying light from the light source.
The sheathed fibre tails from the light source are approx. 11mm in diameter and you must provide enough depth below the plasterboard to accommodate the tails.
Follow this link to our sister site starceiling.com for an overview.
A couple of alternatives are: Use two layers of battens at right angles to each other, i.e. layer one at 1000mm centres as the carrier and layer 2 at 600mm centres for the boards. If room height is a consideration then use just one layer of battens, but leave spaces for the fibre runs.
Our special Infinity star ceiling mix which is often used in the mini-harnesses has 100 fibres. We will supply this with sufficient length to cover the whole board and leave approx. 400mm to plug into the light source tail. Drill the boards with a nice star pattern using clusters and remembering to leave some empty areas.

Strip back the fibre leaving a tail of about 400mm.
Fix the tail (at the fibre end not the connector) to the back of the board using strong tape or a sticky pad and cable tie. This makes the fibre easier to work with.

Insert the fibres and secure with silicone, acrylic adhesive or strong tape.

When the adhesive is dry cut back the fibre with scissors or nail clippers to about 20mm.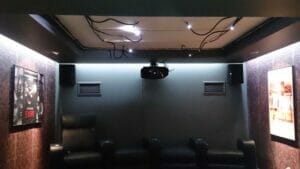 Place a feeder tail from the light source at the centre of each board position. We will have supplied you with a harness cut to the specific size of your installation. This home cinema installation by HiFI Cinema shows a similar arrangement, although in this case the tails are waiting for our Infinity panels rather than plasterboard.

Offer up the boards, using a plasterboard jack if you can, plug in the tails, then fix the board to the battens. Plaster the joints, standing well away from the plasterer until he has finished.

Paint the ceiling, painting straight over the exposed fibres. Repeat as required.
You now have some more options:

1) Cut the fibres back to around 3mm. This has an effect and an advantage. The effect is a slight glow on the ceiling above the fibre – a halo around each fibre; the advantage is future-proofing. You can repaint the ceiling at a later date, cutting back the fibres again by 1mm.

2) Cut the fibres flush for a true star ceiling display. Repainting over flush-cut fibres will involve more effort, but most emulsion paints shouldn't be too hard to brush off the end of the fibres with a piece of fine sandpaper.

Don't forget to send us some photos!
How many stars do I need?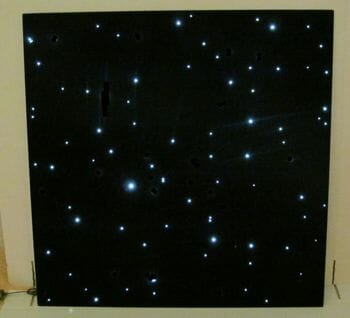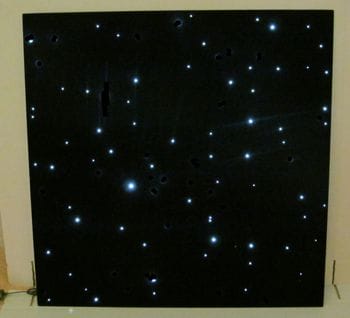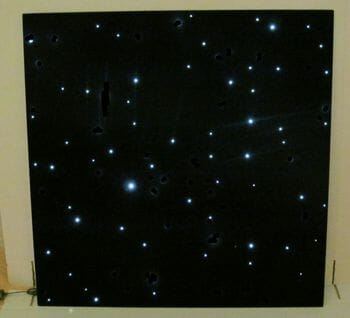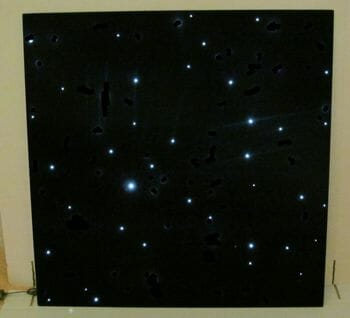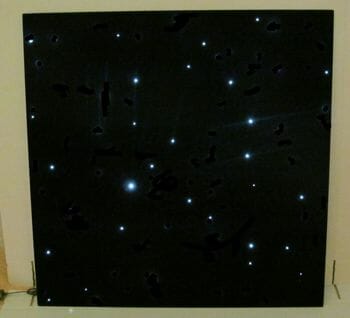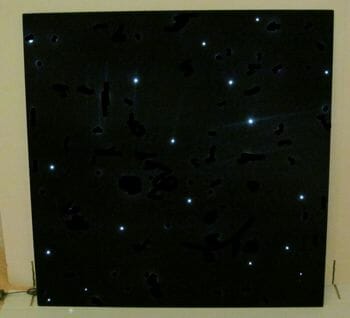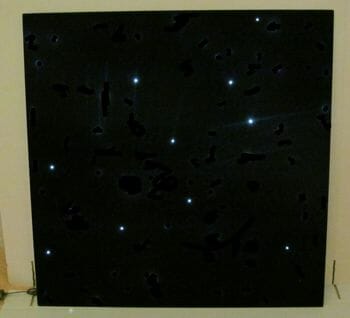 Need any help? Email: info@starscape.co.uk or call 01289 332900
Need any help?
Email: info@starscape.co.uk or call 01289 332900