Starscape was approached by Edinburgh-based ceramic artist Rebecca Wilson who was interested in modifying one of her existing artworks to incorporate some lighting.

The whimsical piece is best described in her own words:

"'Memoria: 100 Cups of Tea, Never To Be…' highlights the sadness of a beautiful object that has been broken. A shattered gold tea pot lies below, while its soul leaves its broken vessel in the form of a swarm of 100 ghostly little winged tea cups. A faint glow from within enhances the ghostly presence of each angelic winged tea cup.
Each little cup is individually cast and assembled in bone china, and then suspended from a single fibre optic strand. The LED light source in concealed within the lightweight ceiling-rose fitting and gives a ghostly cool white glow.
Memoria was an originally an installation sited in the RSA Sculpture Court. I was invited by the City Arts Centre in Edinburgh to develop this piece into a light installation for their 'Reflection' exhibition from November 2011 – February 2012."
Rebecca explained that the original piece had been made using a clear thread – fishing line – and that she'd like us to advise her on how best to replace this with an appropriate combination of optical fibre and light source. Since Edinburgh is only an hour's drive from Starscape's workshops near Berwick upon Tweed it was easy enough for her to drive down to get some hands-on experience of the various available components.
A decision was made to use a very compact LED light source producing cool white light, with unsheathed single strands of cracked 0.75mm pmma optical fibre – the same sort of fibre which is used in fibre optic chandeliers, sensory kits and sparkle curtains. However, in those applications the fibre is sheathed and typically has three strands of the 0.75mm fibre within each sheath. This would have been far too bulky for Rebecca's delicate piece – hence the decision to opt for single fibres.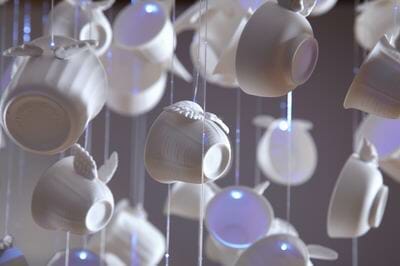 If you like this design, you can have one for your own home at a shade under £6,000, with dimensions to suit your specific preference or requirements. Or, if that's outside your budget, but you love the winged cups, these are available at http://www.culturelabel.com/shop/edinburgh-ceramics-studio.

Of course, anyone can make their own chandelier or mobile using fibre optics. Even if the result is not going to be as polished as Rebecca's charming piece it will still be lots of fun … have a go!