Photos by Paulina Holmgren.
The fundamental advantage of fibre optic lighting is the ability to separate the light production – the light source – and the light output. A single light source can be used to generate light which is then distributed to many locations.
In some instances, such as wet rooms, display cases with precious documents or artefacts or industrial facilities with explosive vapours, being able to keep the light source away from the display area is absolutely crucial. Apart from the electrical hazard, there's also sometimes an issue with heat – even with the latest generation of LED-based light sources.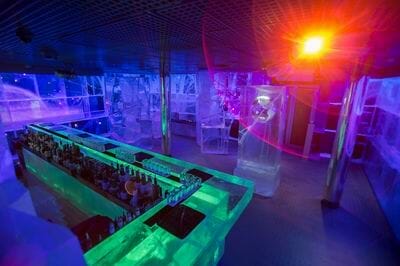 This was a factor in the selection of fibre optics for a recent refurbishment of London's IceBar by IceHotel. The venue's website describes this as "a cold sensory environment where the walls, bar, tables and even your own personal glass are made of the purest ice. A concept at the very heart of ICEBAR BY ICEHOTEL is that everything inside is made from crystal clear Torne River ice which is harvested from the pristine winter wonderland of Jukkasjärvi in Northern Sweden."

Every Autumn, a team of ICEHOTEL's artists and ice designers carve Torne River ice into a new theme and layout using chisels and chainsaws. Every design is different from the next. This year's (2012) theme was Galactic Frontiers, designed by Ben Rousseau and Ake Larsson.
Fibre optic stars were a natural fit for this scheme, since they could be sealed permanently behind the ice wall, while the light source was located a short distance away – accessible for maintenance and not producing enough heat to damage the ice installation.
Starscape fabricated several star panels which were installed by lighting specialists Colour Sound Experiment Ltd.
By coincidence, Starscape also supplied a custom fibre optic harness a few weeks earlier to another company which planned to embed the fibres in the ice of a seasonal outdoor ice rink.