Starscape frequently supplies fibre optics for costumes, whether for students' projects, fancy dress parties or major sporting and cultural events.
The project described here was part of the Gloucester and Worcester Advent cycle of Mystery plays in the run up to Christmas 2012.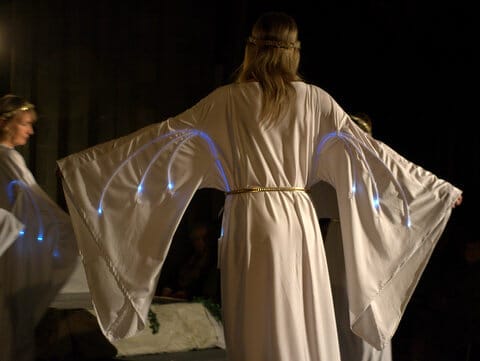 Lengths of solid core light guide help to turn voluminous sleeves into wings.
The fibres are illuminated by an LED torch in a custom-made holster on the angel's hip.
The Mystery plays, which date back to mediaeval times, are among the longest-established forms of drama in Britain.
The tradition is alive and well in several parts of the country, including a recent revival in the cathedral cities of Gloucester and Worcester.
We're indebted to Yvonne Roe, Wardrobe Mistress of the Gloucester Myster Plays for this account of how the fibre optics were incorporated into the angels' costumes to add an ethereal quality.
A stalwart of the Gloucestershire Theatre Association, Yvonne has won awards for her costumes in the past, but had not previously worked with fibre optics. We gave her some basic tips on how to rig some ad hoc battery-powered light sources and she was then able to come up with an effective solution.
We'll let her describe the process in her own words:
"After a lot of experiments I finally managed to work out how to affix the fibres (solid core light guide) to the torches.
It was a bit Heath-Robinson but – it worked! I bought some small plastic reels of sewing thread at Hobbycraft – about half the size of a normal reel – removed the thread and sawed them in half, then attached them to the lenses of the torches using your suggestion of silicone glue.
"After 24hrs they were firm, and I then pushed the three fibre optic cables into the central hole, which was a firm fit, and again used silicone glue to hold them in place.
After another 24hrs I used white electrical tape to cover the join and make the joint firm.
"To keep the torches in place on the Angel gowns I made small tight holsters which were sewn on at the hip level, and 3 small fabric bridles to hold the cables in place up to each shoulder.
The cables were then threaded into curved voile tubes sewn on the back of the sleeves.
The torches had push switches on their bases so the Angels were able to turn them on easily through the fabric.
It looked very good when God called the Angels into life and they all lit up.
I was pleased with the result and I think the audiences enjoyed the effect.
I can recommend the Torch company – Torch Direct – excellent service and product.
"The Angels were a great success with comments such as "fabulous" and "wonderful".
I will be very happy to help if others need some ideas or inspiration."