In this project to install a star ceiling effect as part of a bathroom refurbishment our customer started with an Orion DIY star kit.
"I fixed the fibres on the back of an mdf sheet (see Project 2 for details of this technique)
and fixed battens to the ceiling to suspend it from, since I didn't like the idea of drilling so many holes in the ceiling," he explained
"I purchased the kit for my wife as a Mother's Day present and have fitted it in the main bathroom – my wife loves candles and so I thought this was the next step. I am very pleased with the overall effect – it really is very relaxing. My two-year old daughter loves it also."
This is a luxurious and high-tech bathroom, complete with built-in LCD TV, a Sonos music system and a heated marble floor.
"I don't think there is much scope for any more luxuries," admits our customer. As part of the high-tech scheme, he has added an X10 infra red remote control switch that he purchased elsewhere, although we can also supply suitable remote control products too.
As another point of interest, our customer has down-rated the light source by installing a 40 watt light source to reduce the brightness of the stars to suit his personal preference.
A fibre optic star ceiling helps to create a soothing mood in this bathroom.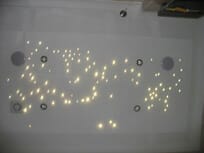 A nice eclectic layout of the stars has been created above the bath.