This is actually a commercial project, rather than a customer project, but we're including it in this part of the website to make it more visible.
One of the classes of optical fibre which Starscape stocks is "wired sparkle fibre". Sparkle fibre consists of strands of "cracked" 0.75mm pmma fibre within a clear plastic sheathing. Small nicks in the fibre cladding allow bright pinpricks of light to emerge from the side of the fibre. Typically there are three strands of the fibre within each sheathed tail. A variant of this product has a wire armature incorporated within the sheathing and this allows the fibre to bent into shapes. By a happy coincidence, one of the Starscape team was a very experienced basket weaver so we asked her to experiment with weaving shapes in the sparkle fibre and this chandelier is the first project using her weaving skills. In the photo above you can see four custom chandeliers hanging from our assembly scaffold in the workshop. These chandeliers each had 26 woven sparkle fibre globes in three diameters – 9, 15 and 20cm – dangling from lengths of multi-core sideglow carrier fibre. The globes attached to the carrier via demountable optical joints. One might alternatively have run the carrier fibre down the inside of hollow steel tubes, for a different look, but we wanted to feature the light leaking from the side of the carrier tails. You can see some curves in these tails, but these should settle out under gravity after a while. The largest globe we have successfully tested in our workshop is 1000mm in diameter, and of course other shapes are possible.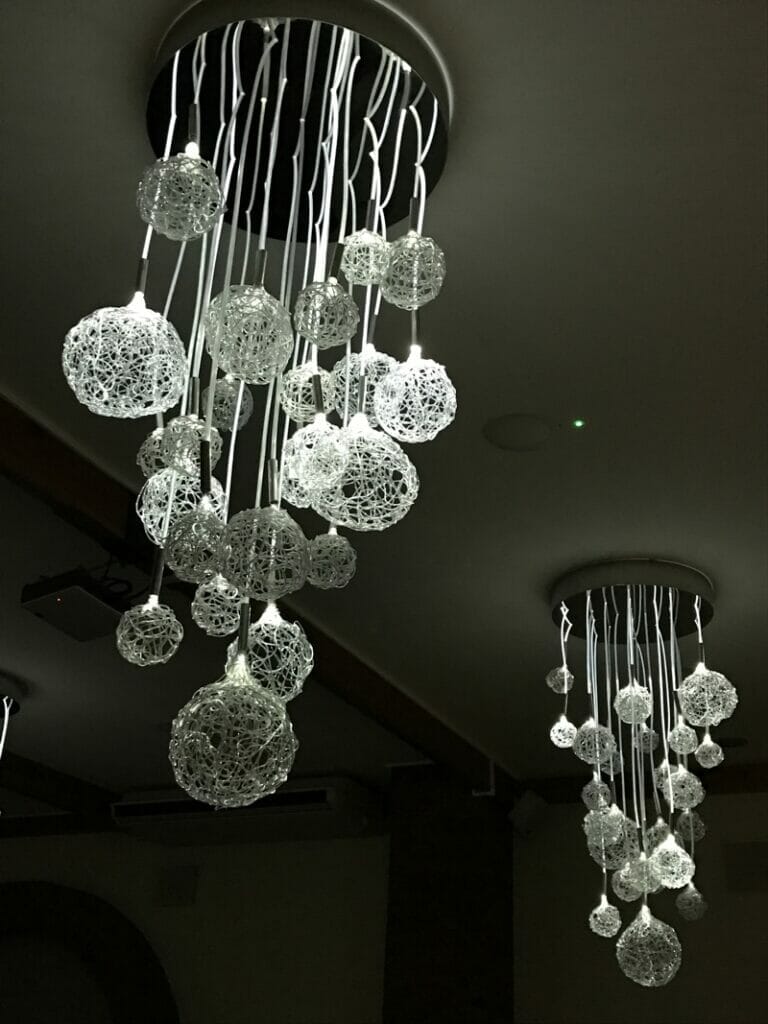 This photo, courtesy of Dan Hollingworth of installers D & N Electrical, shows the chandeliers in situ at the Boston West Golf Club Lincolnshire. Apparently, when the chandeliers are set to a permanent white light they generate enough light between them for customers to dine by. For party nights the four DMX light sources can be set up to produce much more dynamic and colourful effects with rapid colour change and even strobing and shimmering effects.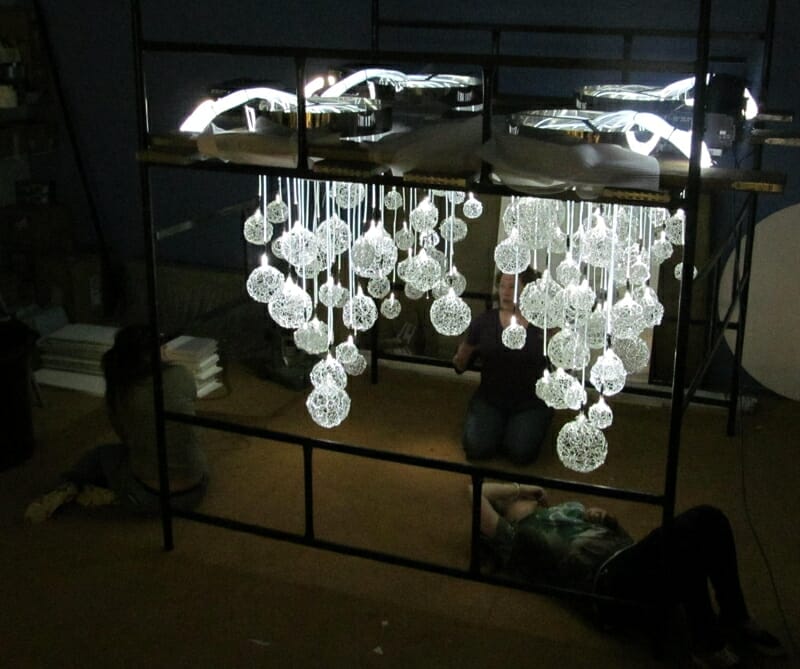 We have successfully tested globes up to 1000mm in diameter. So, with a drop from the chandelier tray of up to 12 metres possible, we could create a really stunning centrepiece for a hotel, shopping centre or other public space that shouts; "Look at me!!"
Why not email: info@starscape.co.uk or give Peter, John or David a call on 01289 332900 for an informal chat.