Galaxy star ceiling panel
Starscapes' Galaxy star ceiling panel brings a touch of magic to any room. The twinkling fibre optic stars in four different diameters give the impression of looking up at the night sky.
Designed, developed, and manufactured in Starscapes' Northumberland workshops, the Galaxy star ceiling is available to order today.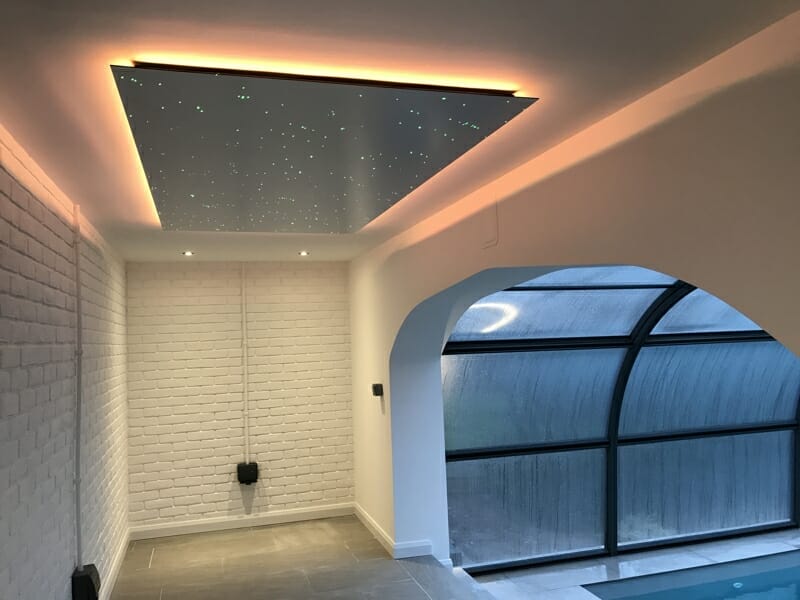 Great look. Fantastic star layout – it's our job and it's what we do best.
Choice of panel colours and finishes.
Choice of star density.
Optional LED rim lighting.
Choice of light sources: Simple twinkle, colour change, colour change and twinkle, integration with home automation system through DMX.
Easy installation. A choice of installation configurations including: Button-fix, threaded rod, wire hangers.
Unusual installation? We'll work with you to make it work.
Light source can be located remotely from the panel if necessary. Star ceiling size 2340 x 1120mm
Here at Starscape we love our star ceiling to emulate the real night sky, so a simple white twinkle would be our choice. However, with our range of powerful yet economical light sources, you can have colour changing effects, dimming, and even shooting stars.
Why not contact us to discuss options? We'll never try and sell you something that will not be right for you, or not in your budget.
Dimensions
2340 x 1120mm. Depth to the bottom the panel from the ceiling 45mm (using ButtonFix)
Installation
Installing the Aurora star ceiling panel is easy, whether you have working space above the ceiling or not. Here are a couple of options:
If you have access to the space above the display then the Aurora can be mounted directly to the ceiling. Simply cut a hole in the ceiling large enough for the fibre optic bundle or 'tail'. Have your electrician provide a switched socket for the LED power supply close to the hole.
The Aurora can be secured to the ceiling by screwing directly through the face and then disguising the screw heads with caps, the same colour as the panel finish. 
Alternatively, and a neater solution would be to use ButtonFix. This simple system utilises button mounts on the ceiling which locate securely into carriers on the star ceiling frame.
This drawing shows a typical star panel installation where access above the ceiling is available. The Galaxy, Aurora,  and Eclipse star ceiling panels are similarly mounted.
Click the pic for an expanded view. 
If you have a ceiling with no access above then we can supply the Aurora with rods or wire hangers. The space created above the ceiling will have enough room to mount the light source. All that is needed is an electrical supply.
Whatever your ceiling construction and access opportunities, our skilled team will always try and offer you the easiest and most cost-effective solution.
Don't hesitate to get in touch.
Prices start at £1893.00 including a MiniLED550 light source, shipping and VAT.
Single colour LED rim lighting £140.75
RGBW colour changing rim lighting with radio remote control £229.00
To connect to the light source, the star panel is supplied with a 2 metre 'tail' of fibre optics.
If you are unable to locate the light source within this distance we can extend the length up to 12 metres.
Although all star panels are bespoke and made to order, from time-to-time we have slight seconds or refurbished panels in stock.
So for new or refurbished, why not give us a call on 01289 332900 or email: info@starscape.co.uk to discuss?